In our heads, we all know instinctively what a truly wonderful, refined, and delicious summer cocktail should be like. As soon as the thermometer starts creeping up (and, importantly, staying up), we start craving cool, crisp, refreshing, and clean characteristics in our drinks - essentially, the precise characteristics which make vodka such a world-beating spirit. 
They say that truly great vodka should taste of very little bit a sharp winter's breeze. However, it's exactly this brisk iciness that lends the great Eastern European spirit par excellence its versatility, and it's for this very reason why it's the ideal choice for your summer cocktail menu. Sure, most vodkas don't pack much of a punch of flavour on their own. That said, they provide the perfect base on which to build mountains of refreshing, summer flavours, and the ideal foundation for some undeniably game-changing cocktails.
Vodka tends to work most successfully with fresh fruit flavours (especially berries), and freshly cut herbs. Why? Because in a vodka cocktail, you want to put those vibrant flavours at the forefront of your drink, and vodka really does allow you to make stars of a handful of humble ingredients. As well as this, vodka loves being paired with bubbles, so don't be shy with your Champagne or ginger ale - these are classic vodka cocktail mixers for a very good reason!
We've picked out five of our absolute favourite summertime vodka cocktail recipes for your enjoyment during the hotter months of this year. If you've avoided vodka since your college days, it's perhaps time to revisit this remarkable drink by approaching it in wholly new and exciting ways. If you're a long-time fan of this cleanest of spirits, you're bound to love these bold and flavourful recipes. Perfect for a pool party, ideal for al fresco picnics and drinking sessions, and wonderful enjoyed under the sunshine anytime, anywhere, and with anyone… these summer vodka cocktail recipes are bound to become brand new favourites. Enjoy!
The Volstead
You don't have to look very far in New York City for vodka cocktails which play with the classics, and bring new life to old favourites. The Volstead is a fantastic example, and has become a firm favourite for visitors to the iconic Lazy Point bar. Like all great vodka cocktail recipes for summer, it makes great use of bright, zesty, fruity flavours, and uses simplicity and elegance as the basis for a truly refreshing and sophisticated tipple. Want to replicate the classy lanquidity of a Long Island beach at your next pool party? This is the cocktail for you!
5 fresh strawberries (1 for garnish)

¾ oz simple syrup

¾ oz vodka

¾ oz lemon juice

¾ oz elderflower liqueur
Muddle four of the strawberries in a cocktail shaker with the simple syrup. Add the other ingredients, plenty of ice, and shake. Strain into a chilled coupe glass, and garnish with the remaining strawberry. Perfection!
Basil Gimlet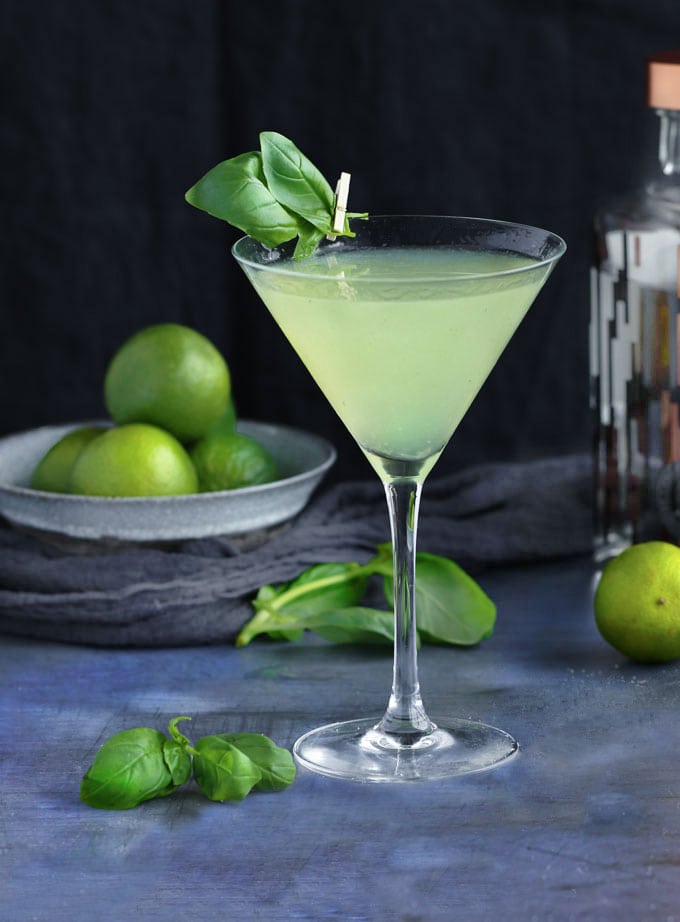 This cocktail is a brilliant take on the classic gimlet, given a sophisticated Mediterranean update and a cooling, summery makeover. You don't necessarily have to include all of the garnishes in this recipe (there are probably more than you really need, to be fair), but if you're going for the wow factor at your next garden party, then this recipe really is going to hit all the right spots.
1 tbsp celery salt, for the rim

Orange wedge, for the rim

2 oz vodka

1 oz lime juice

1 oz simple syrup

2 basil leaves

2 dashes celery bitters

Basil leaf, for garnish

Lime wheel, for garnish
Pour the celery salt on a small plate, and moisten the rim of an Old Fashioned glass with the orange wedge, then run the rim through the salt. Set the glass aside. 
Take your cocktail shaker, and add the other five ingredients with ice. Shake vigorously, then strain into the Old Fashioned glasses along with more cubed ice. Garnish with the basil leaf and lime wheel, and enjoy.
Russian Spring Punch
If you want to pay homage to the spiritual home of vodka in your summer vodka cocktails, then you won't be able to resist this particular example, which celebrates all the wonderfully elegant flavours of a St. Petersburg springtime. Interestingly, this recipe actually comes from London's Mayfair (which is, to be fair, home to plenty of wealthy Russians…), but nonetheless, it definitely hits all the high notes and is guaranteed to be a real talking point for you and your guests.
¾ oz vodka

½ oz lemon juice

½ oz simple syrup

Champagne, to top

Edible flowers, to garnish (pansies, preferably)
Combine all of the ingredients in a punch glass over shards of ice. Add floral garnish, and sip decadently. 
The National Republic of Texas
This delicious cocktail probably isn't the first drink that comes to mind when you think of Texas. However, it was invented for South By Southwest, the music, arts, and film festival which takes over the wonderfully innovative city of Austin each year, and screams volumes about the way that Austinites wish to be seen by the wider world. Refreshing, cool, crisp, and inventive, it's a fantastic vodka cocktail which really highlights the versatility of vodka as a cocktail base. Try it and see for yourself!
1 oz citrus vodka

1 oz grapefruit juice

½ oz Sherry

½ oz honey syrup

Grapefruit wedge to garnish
Pop all of the ingredients (except the garnish) into a cocktail shaker with plenty of ice. Shake well, then strain over ice into a rocks glass. Garnish with the grapefruit, and relax.
Sgroppino
It's never been the easiest of cocktails to pronounce, but when it comes to ultimate refreshment and holiday-themed drinks, the Sgroppino is up there with the best of them all. It's not the most well-known cocktail in the wider world, but head to the beautiful city of Venice during the blazing heat of summer, and you'll find plenty of trendy bars serving up this grown-up slushy on the canal sides. After one sip, you'll see exactly why it's such a crowd-pleaser… and the chances are, you won't want to be drinking anything else all summer long. 
1 oz vodka

1 scoop lemon sorbet

3 oz Prosecco, plus an extra splash

Mint sprig, for garnish
Take a stainless steel bowl, and whisk together the vodka, lemon sorbet, and a splash of Prosecco until you have a nice slushy consistency. Add the remaining sparkling wine, and whisk until fully incorporated. Pour into a Champagne flute, and garnish with a mint sprig. 
There you have it - five incredible summer vodka cocktails that are sure to help you stave off the heat of summer, while tickling your taste buds in a glorious fashion. Give them a try today, and see which one you'll soon be adding to your repertoire!